Family Volunteer Vacation in Cambodia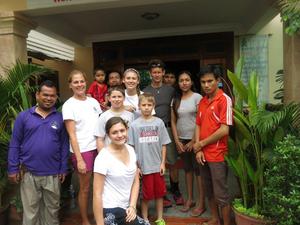 A Dallas family' s week-long volunteer vacation in Cambodia harvested a new global perspective for their four children, ages 10-17. Feeling that their kids were at an age where they were ready for a different type of travel experience, parents Stan and Lezlie decided a family service trip with Globe Aware was the perfect fit for them. Their goals were two-fold: to have their children understand that satisfaction and happiness are not tied to material wealth, and to have them understand that humans are the same around the world and that we all have more in common than differences. Prior to departing, Lezlie and Stan discussed expectations with their children to help prepare them for the poverty and difficult scenes they might encounter during their trip. While the children may have been ready for the work they would do and the people they would meet, nothing could have prepared them for the overall eye-opening experience that would ultimately change their lives.
For their volunteer project, the family spent time building a well for the community, assembling and distributing wheel chairs to landmine victims, and teaching English at Friends of the Orphan Children Organization (FOCO), a local non-governmental organization that provides schooling for disadvantaged children in Siem Reap. It was during their time at the school that the family became intimately acquainted with the richness and reality of the Cambodian culture.
Claudia, the family' s 15 year old, was taken aback by the positivity of the Cambodians amidst their living conditions. Over 30 children both attended school and lived together in a small facility that Claudia quickly realized was not even half the size of her entire house. Yet despite their living conditions and lack of material luxuries, the children were full of joy, respectful, and welcoming to friends and strangers. Caiden, the family' s youngest, also noticed the unquenchable joy of the Cambodians: "The kids in Cambodia are different from the kids here in the U.S. because they are just happy, and kids here always want more. They were always smiling, even when they had to go help work."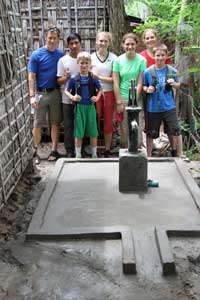 During English lessons, the family members each had a chance to spend time with students, learn about their lives, and get to know more about who they are. One particular young girl stood out to the family. Full of smiles and giggles, her tiny frame exuded to all those around her a contagious joy that would have deceived anyone of her traumatic past. Although she looked no older than four years old, the family discovered from one of the FOCO staff that she was actually nine, and further learned that she came from an abusive past and a tragically broken family.
Filled with sorrow for the girl' s heartrending story and a desire for justice, the family was moved to consider how they might further enrich these children' s lives. The school had recently commenced a new project to expand the facilities but was restricted to complete the work within a certain time period, even though the necessary funds were not available. Stan and Lezlie consulted their family for how they would like to help, and they unanimously agreed they would love to contribute to the funding of the school' s new building.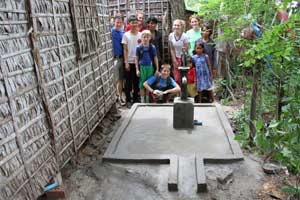 Motivating the family' s decision to help the children was the relentless reminder of the differences between their own lifestyle and that of the Cambodians. As Claudia describes, "We saw the difference " I have two computers, a cell phone, an air mattress, an iPhone, an iPad " and, these kids, all they have a long bench of wood for a bed with a picnic covering, two shelves in a room, and some books. Fifteen kids slept in a room just the size of my room."
Both Claudia and her 17-year-old sister, Maggie, recognize that because of their age, their 10- and 13-year-old brothers, Caiden and Liam, may not have fully grasped the impact of poverty on the Cambodian people. But everyone agrees that having young volunteers on the trip made the experience all the richer. As the same age as most of the students, Caiden and Liam were able to relate with them in a special way, offering a unique connection. Liam explains his perspective on the experience: "It was really hard to understand how the Cambodians lived compared to how I live. The biggest difference was the way they acted " everyone was so happy and nice, as happy as the richest people over here. It was really different from what I was used to and eye opening to how privileged I am."
Walking away from the trip, the children of the family all realized that there is something rich and fulfilling in the lives of the Cambodians that the American culture may not have tapped into yet. Reflecting on this mystery, Claudia profoundly noted "I think they are so happy because they don' t have to worry about the social media and the money and the business and famous people and the media. It makes life so much more simple and so much more meaningful than getting a like on a Facebook picture." Even more notably, Maggie and Claudia were both impacted by the appreciation for education they saw from the Cambodian children. The girls were inspired that rather than complaining or begrudgingly go to school, as their peers often do, the kids were eager to learn and excited to soak up all the knowledge they could.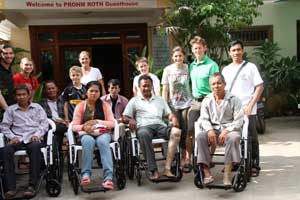 In addition to funding the school project, the family' s help with FOCO in Cambodia has not halted since their return. Unable to shake the now-familiar realities of young children who live off a dollar a day and possess only one outfit to wear for the week, the four children have been inspired to continue their support of the students at FOCO. As Maggie recaps, "The work the school does is of such a benefit to the lives of these children and their communities, and the teachers and staff are really fun and caring people. I am so happy and grateful that I was able to be involved in this school, and I hope to continue to help even while in Dallas." And help she has, as she is currently in the planning stages of launching a literacy and pen pal project to connect peers at her school with students at FOCO.
Assuredly, any parent would be proud to hear their child respond to a volunteer experience with the openness, positivity, and initiative that this family' s children have demonstrated. But the development of characteristics like cultural awareness and generosity can only be attributed to the children' s first-hand observation of authentic parents who demonstrate compassion for humankind and a desire to contribute to other cultures. It is thanks to commendable parents such as these that global citizens rise up and take action to change the world.

Self