Category: Volunteer vacations
Puppers bring St. Patrick's Day cheer!
admin
Tuesday, 17 March 2020 12:25
A little Irish cheer on this St. Patrick's Day thanks to some rescue pups and a coffee shop. Enjoy!
---
This Coffee Company Helps Save Rescue Pups — And They Have St. Patrick's Day Goodies, Too
By Morgan Smith
March 16, 2020
People
When's the last time you skipped the long line at a coffee shop and brewed your own cup of joe at home? Or hit snooze to sneak in a few extra minutes of cuddling with your pet before work?
Grounds & Hounds, a California-based coffee company, is encouraging people to do just that.
Jordan Karcher, 32, founded the company in 2014 after adopting his "sidekick" Molly, a sweet 9-year-old dalmatian. The company donates 20 percent of all its profits to help fund rescue programs in animal shelters across the United States.
Their Rescue Roast donates 100 percent of its profits to a new rescue organization each month. Through April 15th, that's Pandas Paws Rescue, an organization that rescues and rehabilitates animals with serious medical issues and/or special needs.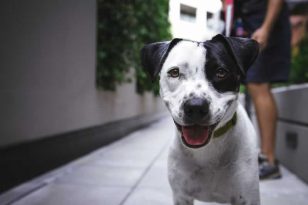 I got to sample the Rescue Roast, and it was fantastic. The medium roast has a nutty, bitter flavor with subtle sweet notes of caramel and dark chocolate. A 12 oz bag of whole beans or grounds costs $14.99.
Since Grounds & Hounds introduced the product on their website in 2018, they've raised more than $45,000 to help support rescue organizations throughout the country, according to Karcher. Those organizations include the Marley's Mutts Pawsitive Change Prison Program, which pairs incarcerated men with shelter dogs for rehabilitation, and the Pittsburgh Aviation Animal Rescue Team, which helps transport animals at risk of being euthanized to open shelters.
You don't have to be a coffeehead to support these causes either. Grounds & Hounds also sells t-shirts, pet accessories, and stickers, too. For St. Patrick's Day, they recently unveiled their "Rub Bellies For Good Luck" line, which shows a Dalmatian holding a four-leaf clover in its mouth. My favorite is their new Affogato candle ($32.99), which fills the room with a dreamy vanilla scent.
Next, Karcher tells PEOPLE the company is looking to help people entering retirement homes and survivors of domestic violence in shelters who may not be able to bring pets with them to their new residences.
"What we're thinking about is, 'How do you really improve that experience of a pet owner?'" he says. "And more importantly, 'How do you ensure that people who love their pets have every opportunity to provide a full life for them, without putting themselves in a position where they're deciding who gets to eat?'"

Oliver is one well traveled ferret!
admin
Monday, 16 March 2020 13:55
A light story about a world-traveler and her pet ferret. Enjoy!
---
This hiking ferret has summited 11 of Colorado's highest peaks
Oliver enjoys camping, kayaking, touring national parks and napping (when he's not stealing pens and socks).
March 13, 2020
By Jen Reeder
Source: TODAY
When paramedic Lauren Smith "impulse-bought" a baby ferret in 2015, she didn't know much about ferrets. She just knew she wanted a pet and felt it wouldn't be fair to keep a dog or cat alone in her apartment while she worked 12-hour shifts.
"Somebody mentioned that ferrets sleep 18-20 hours a day, and I was like, 'That's perfect,'" she told TODAY.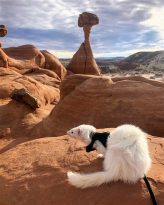 Little did she know that while awake, young ferrets are extremely energetic. Her ferret, Oliver, would run straight into the wall or try to dive under the TV stand and miss and hit his head. He also engaged in his natural instinct to burrow.
"He destroyed my couch and I was like, 'I've got to do something to get this energy out of this little critter,'" she recalled.
Her solution? Head out together on outdoor adventures.
To help Oliver burn off energy, Lauren Smith started taking her ferret on outdoor adventures.Courtesy of Lauren Smith
They started at Caprock Canyons State Park, which wasn't far from their home in Lubbock, Texas. Oliver wore his little harness — not a problem since she gave him so many treats while training to use it — and everything was fine until an ant bit him. He staged a protest and demanded to be carried.
Fortunately, that wasn't the end of their adventures. They moved to Colorado and started exploring trails in earnest.
Now Oliver has hiked 11 of Colorado's famed "fourteeners" — mountains over 14,000 feet high — and visited eight national parks, including Grand Teton National Park in Wyoming and most recently, Colorado's Black Canyon of the Gunnison National Park. He's traveled in six U.S. states.
While Oliver sometimes hangs out in his ferret-sized tent, at night he cuddles with Lauren Smith in a sleeping bag.Lauren Smith
When Oliver gets tired on hot days, he hitches a ride in Smith's backpack. When it's cold, he likes to crawl into the hood of her jacket, which is like his tiny hammock at home.
"He weighs about as much as a burrito so he's super light to carry," she said.
He's even tried to crawl into the hoods of passing hikers when he's decided it's time for a snooze.
"It's pretty funny," she said. "I'm like, 'Oh sorry — he's looking for a nap!'"
Whether it's sunny or snowy, Oliver hits the trails throughout the year.Lauren Smith
In winter, they spend a lot of time hiking in Utah since it's not blisteringly hot as it is during summer months, and has less snow than Colorado. So far they've checked out Arches National Park, Capitol Reef National Park, Grand Staircase-Escalante National Monument, Dead Horse Point State Park and Bryce Canyon National Park.
Oliver hikes the Toadstool Hoodoos Trail near Kanab, Utah.Lauren Smith
Hiking isn't their only activity. They also enjoy camping — though he snuggles in Smith's sleeping bag at night, he does have his own ferret-sized tent — and kayaking. Oliver wears a life vest for safety.
Oliver relaxes in a kayak on Lake Powell in Arizona.Lauren Smith
"We did a test in the bathtub and he did fine. He was able to float for a good 10 minutes without any help. He didn't really need me," she said.
Thanks to a friend's suggestion, Smith, 27, documents their adventures on Oliver's Instagram page under the username hikingferret. She's surprised how quickly thousands of people started following him and was delighted when Colorado Gov. Jared Polis recently mentioned Oliver on his Facebook page.
Oliver hiked to see Isak Heartstone, a beloved troll sculpture in Breckenridge, Colorado.Lauren Smith
With increased public interest in ferrets like Oliver, Smith said it's important for people considering a pet ferret to know they need supervision, particularly when they're young, and that they can be harder to train than dogs.
Also, ferrets are notorious thieves.
"They enjoy stealing and stashing a variety of things," she said. "Oliver's favorite things to steal are pens and socks."
Oliver gets excited every time Lauren Smith walks toward their front door, hoping they're about to hit the road.Lauren Smith
Of course, she has no regrets about bringing Oliver home. He's become quite cuddly as their bond has grown. She's looking forward to taking him to South Dakota this summer, potentially to Mount Rushmore.
"I really like adventuring with Oliver," she said. "It's a whole lot of fun."

A volunteer vacation in Guatemala can bring grandparents and grandchildren together
admin
Thursday, 12 March 2020 10:40
Grandparents have little in common with their grandchildren, or so it seems. It may just take a shared experience such as a volunteer vacation in Guatemala to brdge the generational gap.
---
Memories worth making
The gap in relating with grandchildren has grown so much wider in the last couple of decades due to the domination of technology in the younger generations. Some grandparents may struggle to relate to the world their grandchildren now live in. Despite this gap in understanding each other, there are still ways to come together, share experiences and make memories that will bring them closer together.

One way of bridging the gap is through travel and more specifically through volunteer travel. In recent years, volunteering abroad has become a way to explore and learn about other cultures. This isn't the Peace Corps volunteering of yesteryear however. This is an opportunity for multi-generational families to travel abroad, explore, learn and work together.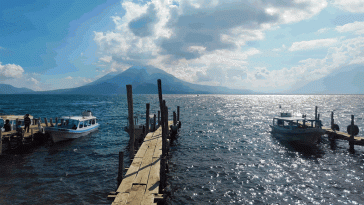 One way to assure your volunteer abroad will be exciting and full of wonderful memories is to choose a nonprofit organization that has been accredited by the International Volunteer Programs Association (IVPA). By choosing an IVPA approved volunteer abroad program, you can have peace of mind that your family's experience will be fulfilling, safe and filled with long-lasting memories.

That is what grandparents Renee and James did when they chose Globe Aware to celebrate their grandson's Zeth's 16th birthday by visiting and volunteering in Guatemala.
​
Cell phones and laptops were left behind in favour of swimming in beautiful blue waters of Lake Peten Itza, making tortillas, tilling and planting in a community garden and installing a concrete floor for a needy family. Renee and James made some wonderful memories with Zeth, some that will never be forgotten and will always be cherished.

IVPA is committed to standards of excellence in the field of international volunteering and IVPA member organizations must uphold the IVPA's Principles and Practices as guidelines for good programming as well as meet stringent membership criteria.
IVPA is an association of volunteer sending organizations but does not organize or run its own volunteer programs.

In its early years, IVPA was a forum for all volunteer organizations to exchange ideas and discuss best practices in the industry. By 2000, IVPA represented around 50 organizations and had developed a set of Principles and Practices for the industry.

Today, IVPA and its members stand for responsibility in the field of international volunteering. The IVPA seal is a distinguishing mark of excellence for volunteer programs.

There are countless reasons why thousands of people volunteer abroad each year. You may start with a desire to travel, learn a new language, or meet new people. By volunteering, you'll also have the opportunity to lend a hand to those who are working to improve life in their communities.
Through your daily work and interactions with members of a local community, you'll gain a better understanding of the culture, as well as the issues that affect that part of the world. You'll also learn a lot about yourself, as you take on the challenge of living and working in a completely new environment.

According to the authors of "Alternatives to the Peace Corps" (Food First Books), "While a volunteer may wish to feed the hungry, heal the sick, or house the homeless, these social and political problems are often more complex than they may seem. Thus, the volunteer's most appropriate role is that of a student.
​Working abroad can better your understanding of the world and forces that keep people impoverished, and enhance your appreciation for the richness of other cultures. For many, volunteer experiences mark the beginning of a lifelong commitment to ending poverty and hunger."

International volunteers who were interviewed for the publication "How to Live Your Dream of Volunteering Overseas" had this to say about their experience volunteering abroad:
"I think it's given me a greater opportunity to define who I am, to expand the way I view things, to see the world through other people's eyes, and to incorporate my experiences into the way I think, live, and feel." – Marlene Larocque, volunteer in Ecuador.
"Volunteering gave me a new perspective on my own cultural values and assumptions. It made me more thoughtful about which ones I truly want to adopt." – Tracy Hessel, volunteer in Latin America.
"I spend the last year working for the U.S. Department of Health and Human Services as an International Program Analyst. I got this job because of my overseas experience, including working in a health setting with under-served populations, knowledge of foreign language, as well as a demonstrated leadership ability and maturity." – Brenda Pierce, volunteer in Costa Ric.
According to the book's authors, "Volunteering abroad can be one of the most educational, inspiring and exciting things you do in your life. Despite all the challenges, most volunteers we spoke with said that, given the opportunity, they would do it again. Living and working in another culture while donating your time and energy to do a worthwhile cause has great rewards and may enrich your life long after you return home."

Tourists flock to Spain: second only to France in popularity
admin
Thursday, 27 February 2020 13:26
Spain's popularity as tourist destination continues to grow.
---
This country's tourist arrivals hit a new record high in 2019 – can you guess where?
TOURISM is a key element to every country's infrastructure, providing an opportunity to increase revenue and awareness to what the country has to offer – and one particular location reached a tourism record high.
By LEAH SINCLAIR
Express
February 4, 2020
The number of international visitors to Spain hit a record high of 83.7 million in 2019, Industry and Tourism Minister Reyes Maroto said last month.
According to Reuters, tourist arrivals rose one percent last year. Spain is officially the world's second-most visited country after France.
"We address 2020 with optimism, because we have a strong and consolidated sector, capable of tackling the challenges ahead of us," said Maroto.
The minister added that one of Spain's main priorities will be to lure visitors from new countries along with working to have visitors all year long and not only in the summer season.
The Secretary of State for Tourism, Isabel Oliver said: "This magnificent data allows us to face 2020 with solid foundations and with the confidence that we have a strong sector capable of maintaining Spain as a world leader in tourism competitiveness."
Britons still represent the highest proportion of tourists visiting Spain, with 18 million Britons choosing Spain to visit in 2019. However, this was a half a million less than in 2018.
Additionally, Spain has seen more visitors from Asia and the United States which offset the decline of travellers from Britain and Germany.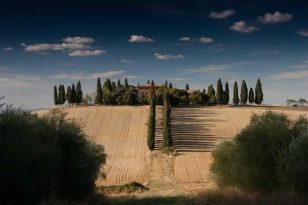 A recent study from CompareTheMarket.com found that Spain remains as one of the key holiday destinations for Britons of all generations.
Spain is most visited by those aged 65 and over and in 2018 it was least visited by 24 to 34 year-olds, accounting for only 13.6 percent of their holidays – but it was still one of their top choices.
Other countries which were popular among all demographics were France, which like Spain, is popular across all age groups, and again fares best among the 65 and over group. 12.5 percent of their holidays were to France in 2018. And like Spain, 25 to 34 year olds visited France least, with only 10 percent of their holidays taking place across the Channel.
For those looking for ways to save money on holiday, the experts from Travelzoo say that you could be saving money before the holiday has even begun.
During the booking process, it can be hard to know whether you are overspending on flights and hotels, especially with so many to choose from.
According to Mr Clarke, though, timing is everything when it comes to making savings.
"Look at shoulder season – this is the time outside of peak, either side of the main holiday periods," Mr Clarke told Express.co.uk.
"There are some serious bargains available if you can be flexible with your time."
Shoulder time is an industry term which tends to mean the period outside of school holidays.
During school holidays, popularity for flights and hotels skyrockets, dragging the cost with them.
However, the time between these periods is the perfect opportunity to get your hands on a budget-friendly trip.
"Traditionally this means outside of school holidays and peaks," explains Mr Clarke.
However, some destinations prices are affected on a seasonal basis too.
"Places like the med are wonderful in May and October," Mr Clarke continued.
"Always wanted to go to New York? Prices plummet in Jan and Feb due to the cold.
"But if you prepared to wrap up warm there are some seriously good packages.
"And a winter day in New York is usually bright blue skies so it can be a lovely experience.
"Or try Iceland in October before the peak season hits – you can still see the Northern lights but also there the benefit of whale season too before it all freezes over!"

Turkey slashes travel visa fees to encourage tourism from certain countries
admin
Wednesday, 26 February 2020 11:11
To encourage more visitors from the European Union and Western Europe, Turkey is relaxing its Visa rules by abolishing associated fees.
---
By Simon Calder
Travel Correspondent
The Independent
February 20 2020
One of the most popular countries for British holidaymakers will abolish its current visa rules for UK tourists from next month.
At present, British travellers must apply online for a permit to travel, which costs US$35 (£27).
The Ministry of Foreign Affairs in Ankara announced: "As of 2 March 2020, Turkey has decided to exempt visa requirements for the members of the European Union Schengen area, Austria, Belgium, the Netherlands, Spain, Poland as well as the United Kingdom citizens for touristic travels to Turkey for every 90 days within 180 day period.
"This step aims at increasing our tourism potential with these countries as well as further developing our trade, economic and cultural relations."
More than two million Britons travelled to Turkey in 2019.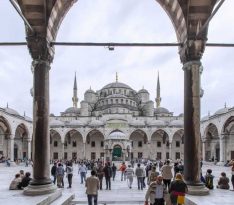 Turkey has applied fees to British visitors for decades. Until recently, UK tourists had to pay £10 in cash to enter the country.
The move has been welcomed by leading travel figures. Steve Heapy, chief executive of Jet2.com and Jet2holidays said: "The removal of Turkish visa charges is fantastic news for British holidaymakers, as it means more money in their pockets.
"Turkey is one of our most popular destinations, and this news makes it much easier for hard-working British families to enjoy a well-deserved holiday to this beautiful country."
Ted Wake, director of Kirker Holidays, called the visa abolition "a very smart move at a time when Turkey needs a boost to tourism throughout the country".
He said: "It's a decision which would, no doubt, have also pleased Turkey's 16th-century ruler, Suleiman the Magnificent.
"Arguably Turkey's most distinguished and outward looking leader of all time, Suleiman has left behind an extraordinary array of treasures, especially in Istanbul."
The move comes as British travellers face much tougher red tape when entering the European Union from 1 January 2021.