Category: Volunteer Vacation Guatemala
A volunteer vacation in Guatemala can bring grandparents and grandchildren together
admin
Thursday, 12 March 2020 10:40
Grandparents have little in common with their grandchildren, or so it seems. It may just take a shared experience such as a volunteer vacation in Guatemala to brdge the generational gap.
---
Memories worth making
The gap in relating with grandchildren has grown so much wider in the last couple of decades due to the domination of technology in the younger generations. Some grandparents may struggle to relate to the world their grandchildren now live in. Despite this gap in understanding each other, there are still ways to come together, share experiences and make memories that will bring them closer together.

One way of bridging the gap is through travel and more specifically through volunteer travel. In recent years, volunteering abroad has become a way to explore and learn about other cultures. This isn't the Peace Corps volunteering of yesteryear however. This is an opportunity for multi-generational families to travel abroad, explore, learn and work together.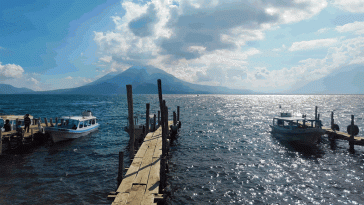 One way to assure your volunteer abroad will be exciting and full of wonderful memories is to choose a nonprofit organization that has been accredited by the International Volunteer Programs Association (IVPA). By choosing an IVPA approved volunteer abroad program, you can have peace of mind that your family's experience will be fulfilling, safe and filled with long-lasting memories.

That is what grandparents Renee and James did when they chose Globe Aware to celebrate their grandson's Zeth's 16th birthday by visiting and volunteering in Guatemala.
​
Cell phones and laptops were left behind in favour of swimming in beautiful blue waters of Lake Peten Itza, making tortillas, tilling and planting in a community garden and installing a concrete floor for a needy family. Renee and James made some wonderful memories with Zeth, some that will never be forgotten and will always be cherished.

IVPA is committed to standards of excellence in the field of international volunteering and IVPA member organizations must uphold the IVPA's Principles and Practices as guidelines for good programming as well as meet stringent membership criteria.
IVPA is an association of volunteer sending organizations but does not organize or run its own volunteer programs.

In its early years, IVPA was a forum for all volunteer organizations to exchange ideas and discuss best practices in the industry. By 2000, IVPA represented around 50 organizations and had developed a set of Principles and Practices for the industry.

Today, IVPA and its members stand for responsibility in the field of international volunteering. The IVPA seal is a distinguishing mark of excellence for volunteer programs.

There are countless reasons why thousands of people volunteer abroad each year. You may start with a desire to travel, learn a new language, or meet new people. By volunteering, you'll also have the opportunity to lend a hand to those who are working to improve life in their communities.
Through your daily work and interactions with members of a local community, you'll gain a better understanding of the culture, as well as the issues that affect that part of the world. You'll also learn a lot about yourself, as you take on the challenge of living and working in a completely new environment.

According to the authors of "Alternatives to the Peace Corps" (Food First Books), "While a volunteer may wish to feed the hungry, heal the sick, or house the homeless, these social and political problems are often more complex than they may seem. Thus, the volunteer's most appropriate role is that of a student.
​Working abroad can better your understanding of the world and forces that keep people impoverished, and enhance your appreciation for the richness of other cultures. For many, volunteer experiences mark the beginning of a lifelong commitment to ending poverty and hunger."

International volunteers who were interviewed for the publication "How to Live Your Dream of Volunteering Overseas" had this to say about their experience volunteering abroad:
"I think it's given me a greater opportunity to define who I am, to expand the way I view things, to see the world through other people's eyes, and to incorporate my experiences into the way I think, live, and feel." – Marlene Larocque, volunteer in Ecuador.
"Volunteering gave me a new perspective on my own cultural values and assumptions. It made me more thoughtful about which ones I truly want to adopt." – Tracy Hessel, volunteer in Latin America.
"I spend the last year working for the U.S. Department of Health and Human Services as an International Program Analyst. I got this job because of my overseas experience, including working in a health setting with under-served populations, knowledge of foreign language, as well as a demonstrated leadership ability and maturity." – Brenda Pierce, volunteer in Costa Ric.
According to the book's authors, "Volunteering abroad can be one of the most educational, inspiring and exciting things you do in your life. Despite all the challenges, most volunteers we spoke with said that, given the opportunity, they would do it again. Living and working in another culture while donating your time and energy to do a worthwhile cause has great rewards and may enrich your life long after you return home."

Volunteer travel to Guatemala with Globe Aware
admin
Monday, 26 August 2019 12:35
A family tradition of volunteer travel continues
A family's tradition of sending grandchildren, once they reach the age of 16, on trips to introduce them to different cultures and people and around the world continues. Here is a travelogue entry by Zeth to Guatemala with Globe Aware. Previous grandkids selected volunteer work in the Andes mountains of Peru, with the Roma people of Romania and in a small rural village in the West African country of Ghana.
Day One: Lake Peten Itza, El Remate, Guatemala
Moments like yesterday are why I'm a travel junkie. The guys still asleep, I took an early walk along a small road where we're staying. What a treat! No city noise, only the idyllic sounds of nature: tropical birds unlike we hear at home … the occasional cry of a monkey, perhaps chiding her youngster … insects buzzing … and the crunch of my footsteps along the gravel-dirt road.
After a while a small older man walked in my direction, and I offered my best "Buenos dias, senor." He offered me a mostly toothless smile and gently reached out toward me – but not his right hand, as if to shake hands, his left hand. He held onto my hand and we had this wonderful nodding and eye-to-eye exchange while he said something I couldn't understand. Had he been an American in the U.S., I would have likely averted my eyes and pulled back thinking, "Why is he still holding onto my hand?" But he just continued to smile with old soul eyes and, as we parted, he blew me a kiss! For me travel is less about the big Eiffel Tower/Pyramids/Vatican imagery, and more these small, magical moments when we have real human contact with people we would otherwise never encounter. Blissful!
Day One was mostly orientation and a few hours of R&R. Globe Aware's local organization is Project Ix-Canaan, founded by Canadian Anne Lossing who came to Guatemala 20+ years ago toward the end of Guatemala's long civil war. She wanted to empower the local Mayan community to protect their own rain forests, and identified the community first needed health, education and opportunity.
Over the years she and her Guatemalan husband, a doctor, have established a medical clinic and a dental clinic (at left) which is staffed largely by visiting clinicians from the U.S. and other places. (No patients on the weekend, so it was empty.)
They also have established an after-school youth development center and a women's center, each of which we toured today.
We also visited a school where we'll be teaching later in the week, and Anne pointed out shards of pottery on the ground – at least hundreds but easily 1,000 or more years old – that can be found in several places in this region called Peten. The Mayans believed that vessels had a kind of spirit and they would break most of their pots during sacrifices or in burials, and also every 40 years to start a new beginning.