Vanuatu is one happy island!
admin
Monday, 09 March 2020 14:49
Largley rural with an agricultural economy, the small South Pacific island nation is a happy nation.
---
Despite being prone to natural disasters, this Pacific archipelago's unique combination of sustainability and tradition makes it one of the happiest places in the world.
By Bill Code
10 February 2020
BBC Travel
One of the happiest places on Earth sits in the middle of the Pacific Ocean. Vanuatu, a slingshot-shaped country that comprises more than 80 islands nearly 2,000km east of Australia, ranked among the four happiest nations in the world – and the happiest outside of the Americas – according to the Happy Planet Index. The rankings take into account a nation's wellbeing, life expectancy and inequality levels, along with its ecological footprint.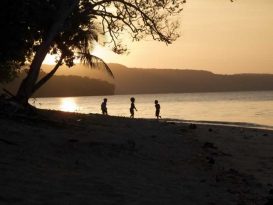 What makes this tiny nation so happy? Since its independence from joint French and British rule in 1980, all land in Vanuatu belongs to the native ni-Vanuatu population and cannot be sold to foreigners. A 2011 survey by the Vanuatu National Statistics Office (VNSO) indicated people with access to land are, on average, happier than those without it. Today, about three-quarters of the country's 298,000 residents live in rural areas, and the majority of islanders have access to land where they can live and grow their food.
The same survey found that goods such as pigs, yams and the South Pacific crop kava (a kind of pepper plant sometimes used to relieve stress and anxiety) are easily accessible and exchanged in Vanuatu without money.
Another source of happiness is the islanders' strong connection to tradition and the archipelago's varied landscapes, which range from rocky mountains to coral reefs. "Vanuatu" actually means "Our Land Forever" in many of the 139 indigenous languages spoken by the ni-Vanuatu – making it among the most linguistically dense nations in the world. Indigenous languages are the primary language spoken by 92% of ni-Vanuatu and the vast majority of the population has a strong or moderate understanding of traditional planting cycles, family history and the importance of local flora and fauna.
Yet, the country still faces some challenges. Situated in the Pacific's Ring of Fire, Vanuatu is highly vulnerable to natural disasters, and in recent years the islands have been threatened by rising sea levels and changes in weather patterns. In fact, the archipelago is considered the world's most at-risk country for natural hazards, according to a 2014 report by the United Nations University. In 2015, Cyclone Pam swept through the islands, causing extensive damage and leaving 75,000 people homeless. But despite all the wreckage, residents quickly started rebuilding the villages, demonstrating their powerful resilience.

Discover India in 2020: Volunteer vacations in India
admin
Friday, 06 March 2020 13:28
India has many wonderful, magical travel destinations. Globe Aware offers volunteer vacations in this diverse, culturally-significant country.
---
Kochi or Cochin was voted the year's trending destinations in the TripAdvisor's Travelers' Choice Awards 2020.
By Clinton Moodle
Feb 27, 2020
Source: IOL
The city in southwest India's coastal Kerala state saw the biggest spike in reviews and ratings on the travel website. And, judging by its many attractions, there's plenty to keep you occupied.
TripAdvisor revealed why travellers were enticed by this Indian city:
"A blending of several small villages on the southwestern coast created the current incarnation of Kochi (or Cochin), where sunset strolls, sampling fresh fish from seaside vendors and boat rides through the islands just offshore top visitors' to-do lists.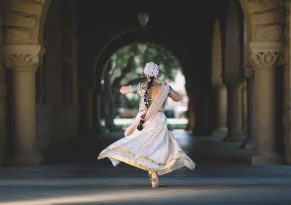 "Art centers showcase the traditional dance, Kathakali. European influences are seen in the 16th-century Portuguese-built churches and forts, while the mark of early Chinese traders is visible in the unusual fishing nets dotting the shoreline." (sic).
One of the popular tours is the 'funny and helpful Tuk Tuk Tour in Kochin' for only R158. The guide shows you some of the famous places in Kochi with a bit of humour to the tour.
Then there's also experiences for foodies. If you are interested in learning about the city's food story, you can book a class to cook Kerala inspired dishes with a local host.
The tour, around R260, provides insight on how to prepare dishes like chapati round bread, dosa, ghee rice, vegetable dishes, fish fry or chicken curry.
The best part, you get to eat what you prepare.
If you do not feel like cooking, then have a local named Joseph prepare a meal for you.
His only request is that you purchase your ingredients at a local market and he will do the rest.
Joseph will take you to the market to do the shopping and insight about the city as he cooks for you.
You will end the evening around the table with Joseph and his family.
Shopping and cultural tours feature heavily on the itineraries. Other trending destinations include Luzon in the Philippines, Porto in Portugal and Porto Seguro in Brazil.

admin
Wednesday, 05 February 2020 14:30
Coronavirus is posing a challenge to the global tourism industry. The health sector and tourism and industry groups are working together to protect the global travel industry as concerns and questions mount.
---
The Global Tourism Resilience and Crisis Management Centre is rapidly emerging as a new and important to go organization for the global travel and tourism industry in times of challenges.
Leadership and coordination are needed to protect this global industry, and the Center is ready to work with everyone, but urges it's time to act now.
UNWTO issued a very general statement today, WTTC CEO Gloria Guevara addressed coronavirus when talking to eTurboNews saying don't cancel flights yet, don't close your airports, ETOA CEO Tom Jenkins said: Coronavirus fear is a powerful deterrent to tourism. The African Tourism Board answered the question if you should you still travel to Africa? PATA CEO Mario Hardy is convinced there is a lot of misinformation and said: Destination and tourism marketers will need to play a critical role in correcting the vast amount of misinformation surrounding the ongoing Novel Coronavirus outbreak that is hurting travel and tourism businesses across Asia.
Today the Global Tourism Resilience and Crisis Management Centre center calls on the action by the private sector, academia, public sector, and multilateral agencies to act now, as the situation of protecting Anthropocene Earth is impatient of Time.
The man behind the Center, Minister Bartlett just 3 days ago said the recent threats of global pandemics and the frequent occurrences of natural disasters heightened the need for a Global Tourism Resilience Fund.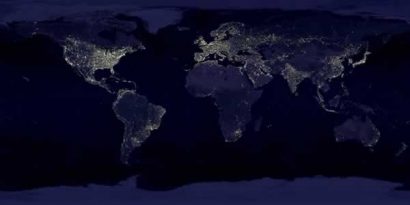 The global travel and tourism industry is struggling to deal with the emerging coronavirus crisis.
The ongoing coronavirus crisis may very well be the biggest challenge this normally booming industry could face. Stopping more than a billion people from traveling would be the ultimate and devastating consequence putting the livelihood of millions working in the travel industry in jeopardy.
Chinese travelers have been seen as the most potential development in travel for the last 20 years. Today countries are closing their borders to Chinese visitors, airlines, trains, and ships stopped serving Chinese destinations. The Chinese government quarantines millions of their citizens stopped domestic travel routes during the busiest travel season, the Lunar New Years.
One global organization, the Global Tourism Resilience and Crisis Management Centre under the leadership of Edmund Bartlett and Dr, Taleb Rifai is taking an urgently needed hands-on approach.
Edmund Bartlett is the Minister of Tourism for the Island Nation of Jamaica, a region dependent on the mighty tourism Dollar.
Bartlett is seen by many as a global player. Together with former UNWTO Secretary-General, Dr. Taleb Rifai, he established the Global Tourism Resilience and Crisis Management Centre headquartered in Jamaica. Over just one year the center opened satellite stations around the world.
The center calls on the action by the private sector, academia, public sector, and multilateral agencies to act now, as the situation of protecting Anthropocene Earth is impatient of Time.
Our planet and the human race face multiple challenges. These challenges are global and serious — climate change, food production, overpopulation, epidemics. the decimation of other species, epidemic disease, acidification of the oceans.
Human beings have existed for just 200,000 years, yet our impact on the planet is so great that scientists around the world are calling for our period in the Earth's history to be named the 'Anthropocene' – the age of humans. The changes we are now making have exacted a heavy toll on the natural world around us. It's vital that people underst and the impact we have. Help us persuade other organizations to tell them the truth.
It took humanity 200,000 years to reach one billion and only 200 years to reach seven billion. We are still adding an extra 80 million each year and are headed towards 10 billion by mid-century.
The coronavirus threat has been elevated to crisis level following yesterday's declaration by the World Health Organization (WHO) that the virus is now a 'public health emergency of international concern.
The WHO emergency declaration came as a result of the rising death toll and infections associated with the virus.
The Jamaica minister said: "While the Latin American and Caribbean region has not yet reported any cases of the coronavirus, it is only logical to assume that the virus is likely to hit the region's shores at any moment now, considering its current geographical spread and trajectory."
Bartlett added: "For all intents and purposes, the coronavirus threat now constitutes a global emergency – one that requires a coordinated, foolproof global response to contain this looming pandemic.
The travel and tourism industry, in particular, is in a very precarious position and faces the highest probability of significant economic fallout from the emergent global health crisis.
This is for two main reasons.
One, the coronavirus threat has created a heightened fear of traveling globally. Two, China is the world's largest and highest-spending outbound tourism market. Against this background, the global travel and tourism industry is being called upon to play a pivotal role in shaping global response efforts.
At this point, the main focus of the global response to the coronavirus threat is to prevent further exposure beyond the currently affected areas as well as to isolate infected persons from uninfected populations.
Accomplishing these two targets will require the mobilization of significant human, technological and financial resources to establish reliable systems to monitor evaluate and isolate risks especially at the various points of entry.
Large investments are urgently needed to procure modern health technology to screen risks, to conduct vaccine research, to develop public education campaigns and to ensure real-time information- sharing and coordination across borders.
We applaud the swift action of the Chinese health authorities who have constructed a 1000-bed coronavirus hospital in four days and who have demonstrated cooperation with other countries to stem its global spread. We are now calling on all public and private sector funding entities globally to support the various emergency initiatives that are being developed and deployed to deal with the looming coronavirus pandemic that is threatening global human and economic security.
The International Bill of Human Rights Article 13 of the Universal Declaration of Human Rights reads: (1) Everyone has the right to freedom of movement and residence within the borders of each State. (2) Everyone has the right to leave any country, including his own, and to return to his country. This right is now under threat.
Working in a Global Tourism Market
Dr. Peter Tarlow of Safer Tourism has been working with the Hon. Minister Bartlett on tourism safety and security ever since the center was established.
Dr. Tarlow said in the webinar today: If there ever was a time to change sheets in your hotel room every day, it is now. If there was a time for Boeing and Airbus to allow fresh air to their aircraft instead of circulating the same air, it was now. Forget the masks, but avoid using pillows and blankets on aircraft, avoid crowds of people, wash your hands and avoid handshakes, take Vitamin C, get enough sleep, drink plenty of water.

Safe Travel Advice if you Intend on Going to the Middle East
admin
Wednesday, 15 January 2020 17:37
Due to recent events in the Middle East, many travelers are now on edge over security concerns. Here are some tips on staying safe if you plan on travelling to the region in the near future.
---
'Maintain a high level of vigilance' — travel security experts advise caution when traveling to the Middle East
Jan 8, 2020
By MEERA JAGANNATHAN and ANDREW KESHNER
SOURCE: MARKET WATCH
The State Department says Americans should maintain 'situational awareness' in the region following the Baghdad airstrike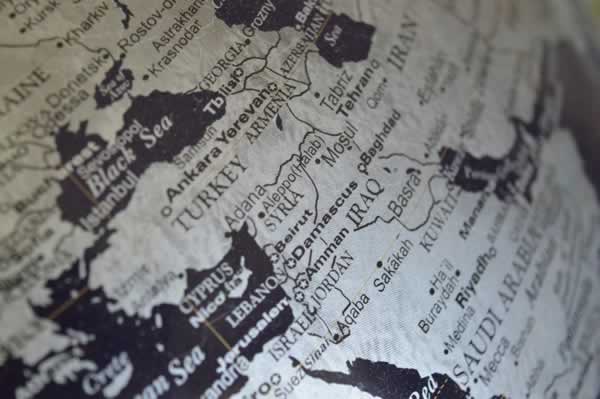 Tourists at the Khazneh, or Treasury, in Petra, Jordan. The popular destination is in a region of the world where tensions can be expected to rise after an U.S. airstrike in Baghdad, Iraq, killed a top Iranian military official.
Iran and Iraq are obviously not destinations for most U.S. tourists, but experts say U.S. citizens should exercise caution when traveling to other countries in the Middle East following the U.S. airstrike that killed Iranian military leader Qassem Soleimani at Baghdad's international airport last Friday.
Iran, which has several armed allies in the region, retaliated Wednesday by firing a volley of ballistic missiles at two American military bases in Iraq. The Federal Aviation Administration banned U.S. airlines from flying over Iran, Iraq and waters of the Gulf of Oman and Persian Gulf, and Reuters reported that a number of non-U.S. airlines, including Emirates and Lufthansa, had canceled flights around Iraq and Iran.
Meanwhile, a Ukraine-bound Boeing 737 BA, -0.77% operated by Ukraine International Airlines crashed Wednesday after taking off from Tehran, killing all 176 people on board. Ukraine's embassy in Tehran said the crash was under investigation by a commission, and that any statements about its causes before the commission's decision were "not official," the Washington Post reported.
Iran and Iraq are listed as Level 4, meaning do not travel to them, by the State Department, while Israel and Jordan are deemed Level 2, calling for increased caution.
Travel experts advise caution when visiting the Middle East. "Any of those places in the Middle East, I would have a heightened level of concern," Tim Bradley, managing partner of IMG GlobalSecur, a Tavares, Fla., a firm advising companies, nongovernmental organizations and mission groups on safe travel across the globe, said last week after Soleimani's killing.
The State Department did not respond immediately to a request for comment Wednesday, but it urged all U.S. citizens last week to leave Iraq "due to heightened tensions" in the country and surrounding region.
The department sent out a string of notices on Twitter TWTR, +1.25% cautioning American citizens in countries including Morocco, Lebanon, Kuwait to maintain "a high level of vigilance" and "good situational awareness" in light of the tensions in the region. American citizens in Bahrain should also be on the lookout for demonstrations or unrest, the State Department said.
"While we have no information indicating a threat to American citizens, we encourage you to continually exercise the appropriate level of security awareness," a department tweet stated.
The State Department regularly issues travel advisories on a 1-to-4 scale; countries rated at Level 1 are places where travelers should "exercise normal precautions," while Level 4 is a warning not to travel to a country so designated.
For context, Iran and Iraq are listed as Level 4 countries, while places like Israel and Jordan are deemed Level 2. These are countries where the State Department says travelers should use "increased caution."
Travelers should be especially aware in public squares, and should also recognize that U.S. embassies and Western-branded hotels can face increased risks of attack, Bradley added.
The State Department's 'Smart Traveler Enrollment Program' is a free service under which travelers send their itineraries to the department.
What about Americans planning travel to lower-risk Middle Eastern destinations like Jordan, the United Arab Emirates and Qatar?
"Don't cancel your plans," said Matthew Bradley, the regional security director for International SOS, a medical and travel security services firm (and no relation to Tim Bradley of IMG GlobalSecur).
That said, travelers to those traditionally lower-risk regions might still minimize their movements to reduce the risk of being a victim of circumstance, he said, and maintain a heightened sense of awareness.
Trust your gut, said GlobalSecur's Bradley, a former FBI special agent. "If you don't feel comfortable somewhere, it's time to leave."
Tim Bradley said there are other ways to plan ahead:
Enroll in the State Department's "Smart Traveler Enrollment Program," a free service under which travelers send their itineraries to the department. The program gives updates on a country's safety conditions and enables government officials to get in touch in case of emergencies.
Brush up on current events before traveling, even if it's just to know when holidays are approaching, he said.
Travelers should be in touch with family and friends back home as their trip proceeds. It's also smart to leave a hard copy of the trip itinerary at home with someone.
Arrange transportation from the airport to the hotel ahead of time. Hotels typically can provide a car service, he said.

Volunteer travel to Guatemala with Globe Aware
admin
Monday, 26 August 2019 12:35
A family tradition of volunteer travel continues
A family's tradition of sending grandchildren, once they reach the age of 16, on trips to introduce them to different cultures and people and around the world continues. Here is a travelogue entry by Zeth to Guatemala with Globe Aware. Previous grandkids selected volunteer work in the Andes mountains of Peru, with the Roma people of Romania and in a small rural village in the West African country of Ghana.
Day One: Lake Peten Itza, El Remate, Guatemala
Moments like yesterday are why I'm a travel junkie. The guys still asleep, I took an early walk along a small road where we're staying. What a treat! No city noise, only the idyllic sounds of nature: tropical birds unlike we hear at home … the occasional cry of a monkey, perhaps chiding her youngster … insects buzzing … and the crunch of my footsteps along the gravel-dirt road.
After a while a small older man walked in my direction, and I offered my best "Buenos dias, senor." He offered me a mostly toothless smile and gently reached out toward me – but not his right hand, as if to shake hands, his left hand. He held onto my hand and we had this wonderful nodding and eye-to-eye exchange while he said something I couldn't understand. Had he been an American in the U.S., I would have likely averted my eyes and pulled back thinking, "Why is he still holding onto my hand?" But he just continued to smile with old soul eyes and, as we parted, he blew me a kiss! For me travel is less about the big Eiffel Tower/Pyramids/Vatican imagery, and more these small, magical moments when we have real human contact with people we would otherwise never encounter. Blissful!
Day One was mostly orientation and a few hours of R&R. Globe Aware's local organization is Project Ix-Canaan, founded by Canadian Anne Lossing who came to Guatemala 20+ years ago toward the end of Guatemala's long civil war. She wanted to empower the local Mayan community to protect their own rain forests, and identified the community first needed health, education and opportunity.
Over the years she and her Guatemalan husband, a doctor, have established a medical clinic and a dental clinic (at left) which is staffed largely by visiting clinicians from the U.S. and other places. (No patients on the weekend, so it was empty.)
They also have established an after-school youth development center and a women's center, each of which we toured today.
We also visited a school where we'll be teaching later in the week, and Anne pointed out shards of pottery on the ground – at least hundreds but easily 1,000 or more years old – that can be found in several places in this region called Peten. The Mayans believed that vessels had a kind of spirit and they would break most of their pots during sacrifices or in burials, and also every 40 years to start a new beginning.